Whether it's a picturesque sunset backdrop or dinner under the stars, fall in love again in paradise during this romantic week. Explore breathtaking dining experience in Bali with nature aplenty and romantic activities.
La View, Kupu Kupu Barong in Ubud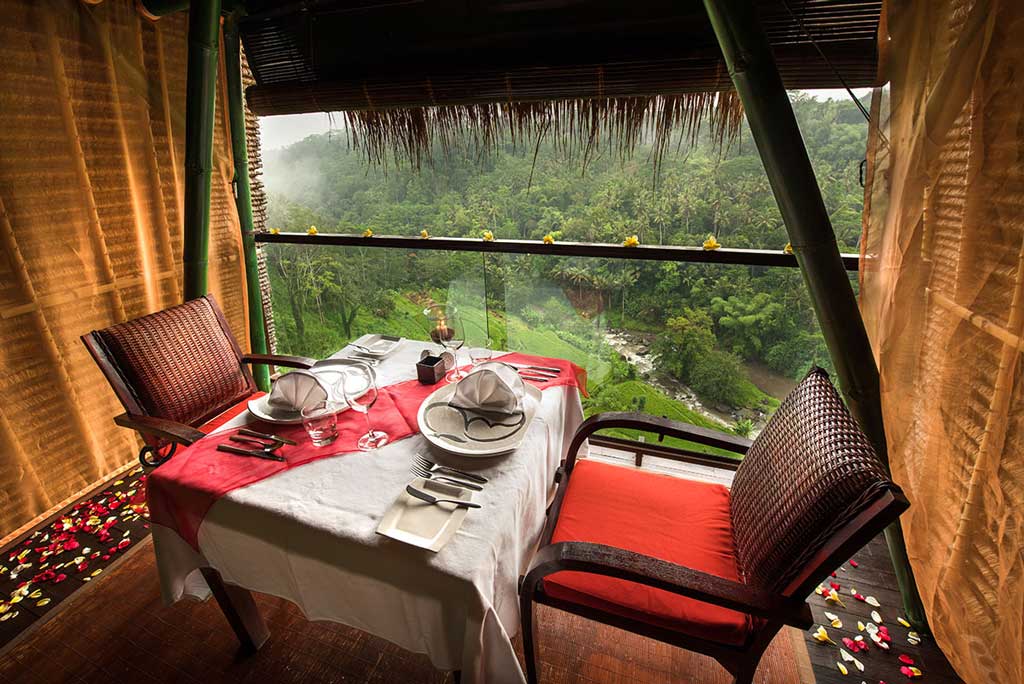 Pic credit: kupubarongubud
An intimate wining and dining set afloat on an enchanting valley against a natural backdrop of woodland greenery will guarantee an unforgettable Valentine's evening in Bali. This setting under a canopy of stars will be closed off exclusively for you and your date to ensure a private experience. A five-course menu of gourmet cuisine with distinct French infusion is discreetly served throughout the Twilight Dinner. Kupu Kupu Barong has a slightly cheaper alternative if you prefer a dining experience on a Birdnest where you feel like butterflies flying over the Ayung River Valley.
Approximately one hour drive from The Colony Hotel.
Swept Away at The Samaya in Ubud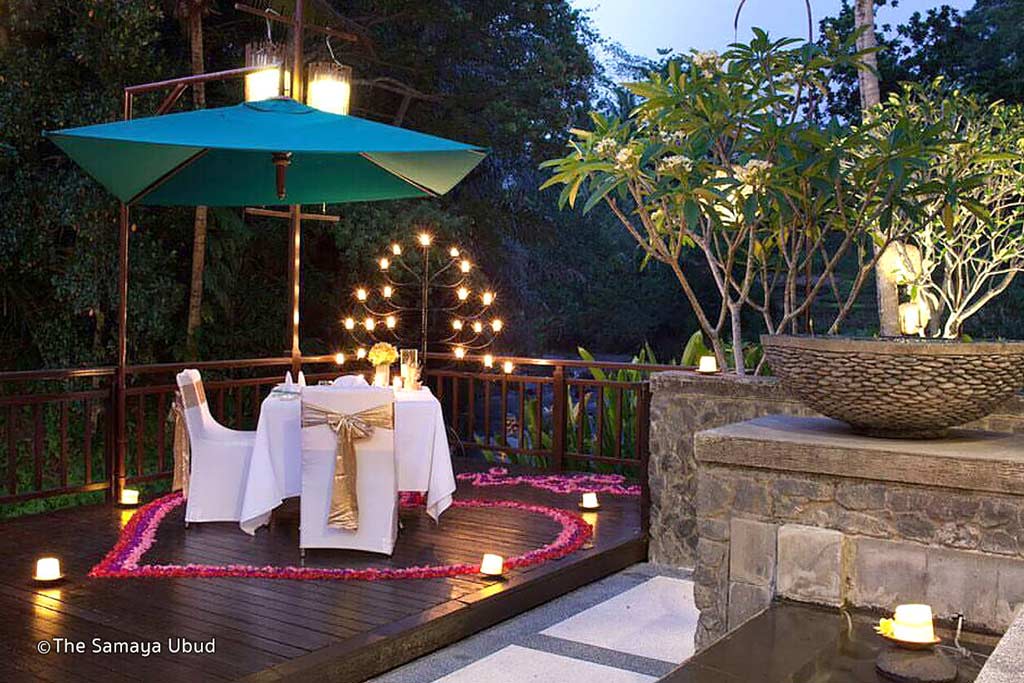 Pic credit: thesemaya ubud
The deck of Swept Away at The Samaya is only a stone's throw from the river. It's an ideal setting for you and your loved one to relax and unwind, accompanied by the therapeutic sound of water and cooling breeze from the river. The 100 Candles Riverside Dinner will have you experience the Ayung river awash with candles leaving your view infinite times more charming than it naturally is. The seven-course menu can be specially designed to guarantee a cherished romantic evening for you and your Valentine.
Approximately one hour drive from The Colony Hotel.
Hotel Tugu in Canggu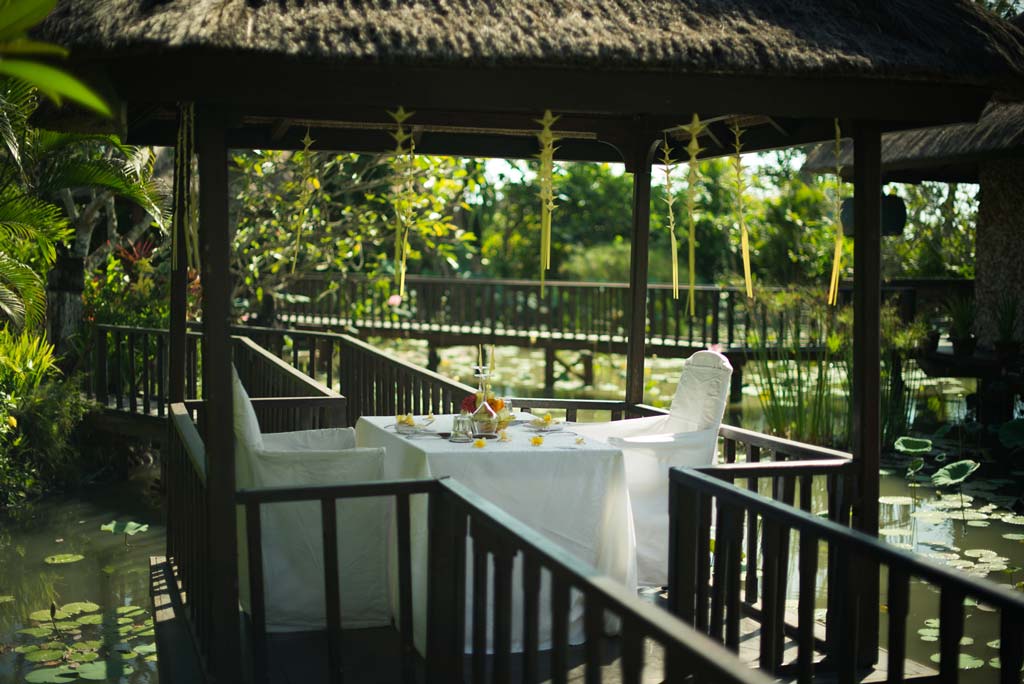 Pic credit: Tugu hotel
On the Southwest coast of Bali, Hotel Tugu Bali stands silent with a sunset glow from behind the Indian Ocean. "Just the Two of Us" is a romantic gourmet picnic for two set on the 18th century antique bed, solo at the rooftop, illuminated by oil lanterns and a dusky Canggu sky. Expect a stunning sunset view and to-die-for meals, with the dessert served with two blindfolds. It will be ultimate romantic gesture for this romantic week.
Approximately 30 minute drive from The Colony Hotel.
Poppies Restaurant in Legian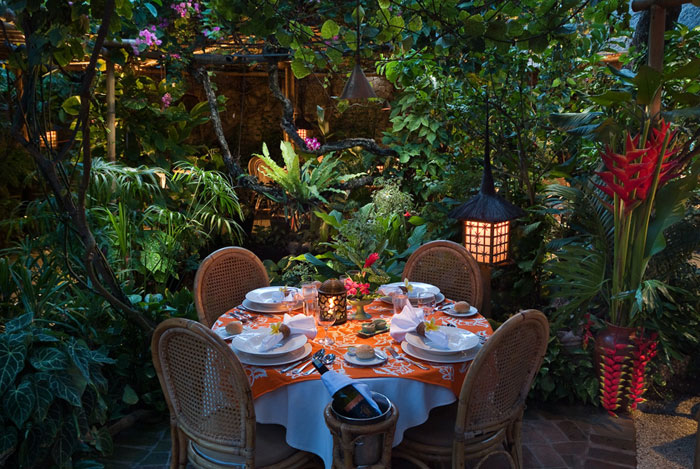 Photo credit: Poppies Restaurant
Hidden away in an alley in Legian, known as Poppies Lane, the restaurant sports an elegant garden setting. Poppies first opened its doors in 1973 and is one of the first restaurants established in Kuta. Popular for its serene ambiance and lush foliage, Poppies offers the perfect fine dining location for all occasions. You and your significant other will enjoy exquisite Indonesian and international cuisine beneath a canopy of flowers, amidst pools, and waterfalls.
Approximately 30 minute drive from The Colony Hotel
The Colony Hotel Seminyak is a boutique hotel located in the heart of the chic and sophisticated district of Bali. To learn more about our hotel facilities and transportation services, visit our website through this link.