Bali is known for many different and wonderful things. When visiting, you can be sure that you'll enjoy the landscape, sandy beaches, the people, unique temples and the rich culture. Another thing you'll enjoy? The scrumptious food. After all, what's a trip to Bali without indulging in the local cuisine? Here are some delicious and fascinating food in Bali that you should try:
Food in Bali: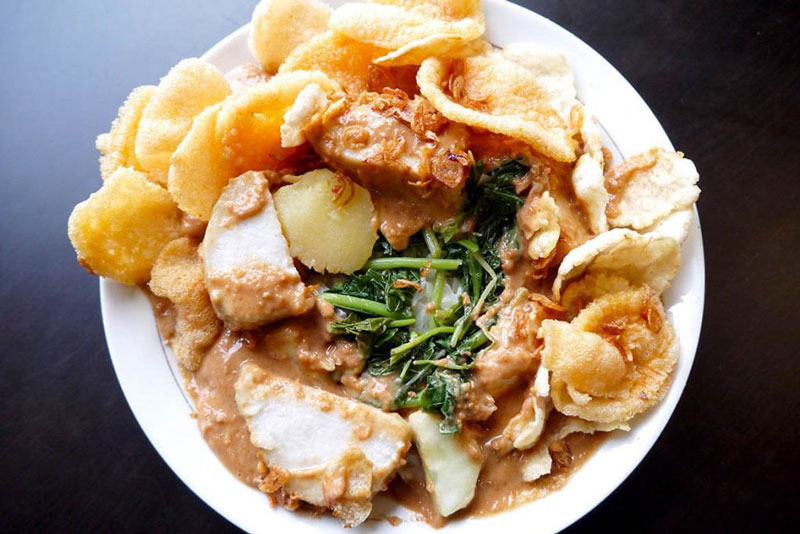 Gado Gado – This Indonesian dish and is made up of a variety of veggies in peanut sauce. You can find this meal just about anywhere—from small stalls to big restaurant chains. And while the availability Gado Gado has branched out to other countries, eating it in Bali is unique because of the fresh ingredients and authentic sauce. Unlike a salad dressing where it's only lightly drizzled on top of the vegetables, the sauce found in Gado Gado is poured over generously and coats each and every vegetable found in the dish. Gado Gado is so indulgent that you may just find yourself wanting to take some of it back to your home country. If that's the case, you'll want to find a block of the paste from the supermarket. Simply add water, and just like that, you too can have your very own Gado Gado sauce.
Godoh Gedang – Simply looking at this meal might leave you wondering as to what it is. However, one bite is all it takes for the mouthwatering taste of fried banana to fill your mouth and entice you to take a second one. This food is eaten as a snack and is sold all around Bali by the food vendors. The banana is first dipped in batter before being dropped down into a hot wok to be fried. The Portuguese introduced this dish to this part of the world in the sixteenth century and is now a popular snack among locals and visitors alike. You can also get creative with it and try eating it with fresh cream or cinnamon sugar.
Durian – This fruit has been named the 'King of Fruits' and is considered a delicacy by the locals. It has a very strong smell that most visitors may find unpleasant. As for the taste? Unique. Savory, sweet and creamy all at once. Taking a day tour to the market will allow you to buy a fresh one and try it out for yourself.
Bubuh Injin – This rice porridge is made from locally grown black rice and makes use of coconut milk, making it creamy and rich. This particular food in Bali is often eaten as a dessert so it's an excellent choice for those with a sweet tooth.
Suckling pig – This delicacy is one of the very best culinary experiences of Bali. You can have it at a local restaurant or even at the resort where you may be staying. The suckling pig is cooked for five hours by roasting on a spit and then carved for patrons of the restaurant to enjoy.
So what are you waiting for? With so many different types of food in Bali to try, there's no time to waste. Book your next flight and fall in love with Bali one bite at a time.