With more than 10,000 temples in Bali, it may be impossible to see them all. However, it is possible to find the temples that are a must see and visit them within the period of time that you will be in Bali. Here are some of the most popular and famous temples in Bali that are a must see.
Temples in Bali:

Tanah Lot – this is really the signature temple of Bali. It is built on a tiny island and can only be accessed when the tide is low. The fame of this temple is owed largely to its location off the coast and its beauty when the sun is setting. Since many people visit at sunset to enjoy the picturesque scenery, you may want to go at about noon if you are hoping to avoid the crowds.
Besakih Temple – This is Bali's most important and largest temple. It is actually a complex that houses a total of 22 temples placed on the slopes of the sacred Mount Agung. The largest temple of the 22 is in six levels and is known as Pura Penataran Agung. It is the most important in Besakih.
Pura Luhur – This temple is located in Uluwatu and is perched on a cliff. The dramatic location is what makes it so famous. It is absolutely spectacular at sunset and you can enjoy performances of the Kecak dance during that time.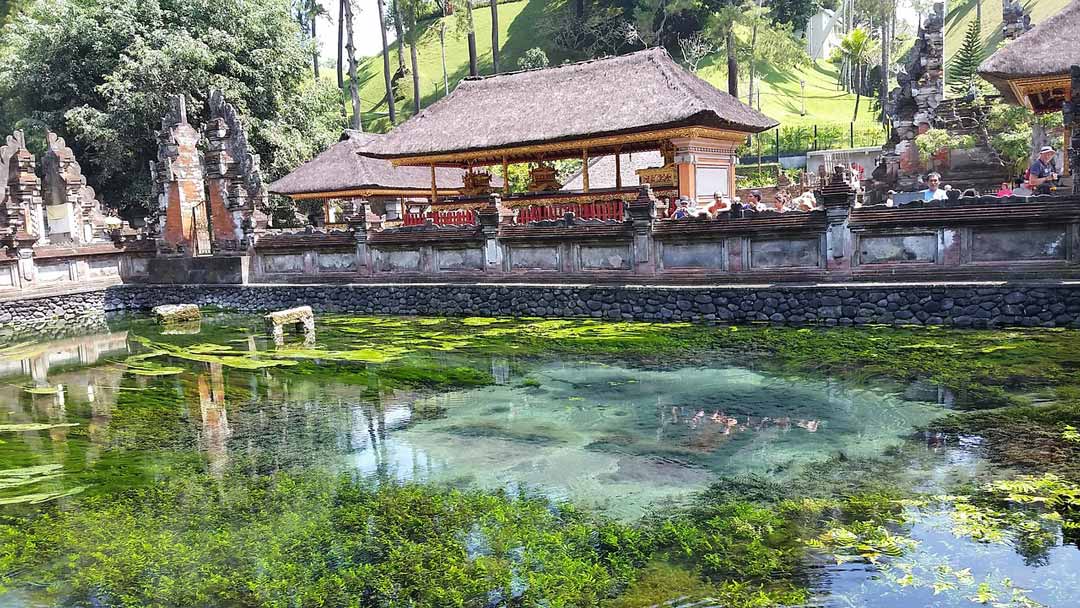 Pura Tirta Empul – Known as The Temple of Holy Water, this one is located some twenty kilometers NE of Ubud. There is a sacred spring at this temple where the faithful purify themselves. The most prominent attraction is a large pool, rectangular in shape, called Pura Tirta Empul where 12 fountains pour in the water from the holy spring.
Pura Ulun Danu Bratan – This temple is located on the shores of the famed late Bratan between mountains. This temple has been dedicated to Devi Danu the goddess of waters.
Pura Goa Lawah – The temple has been built around a cave that is full of bats. Even though the temple is not as impressive as the others, the bats are quite an attraction.
Taman Ayun Temple – The major attraction here is the tranquil garden that epitomizes beauty. The temple is named 'beautiful garden.' The grounds are surrounded by a moat and you have to cross a bridge to enter its grounds. The garden has paved footpaths, fountains, small ponds and as many as 50 shrines. This is a UNESCO world heritage site.
Pura Dalem Agung – This temple is located in Monkey Forest in Ubud. It is known as The Temple of Death.
When you visit Bali, one of things you should do is visit the temple. Ready to visit these temples? Book your stay with us and we will be more than happy to assist you with and trips around the island, so you can explore the true culture of Bali when visiting the temple.